The Tri-Unity in Science and in Religion
A New Boundary Breaking Theory in Quantum Physics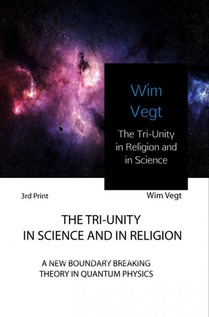 When you read this book, it is very likely that the world of Physics is still very calm. Like in the early morning, just when the sun rises. You feel peace and the birds start to wake up and you hear the first sounds breaking the silence of the night. The sounds of joy, the sounds of happiness, the sounds of peace. But it is the morning of the great battle. The battle in physics. Still everybody is asleep. There is no sign of aggression. But soon the armies will rise and the battle will be dark and merciless. Because there is so much to lose. And what is there to gain. Physics has taken over Religion. Physics has replaced the God of Love by the God of the Dice. In Quantum Physics the magicians wave like Harry Potter magicians with their wants and speak out not understandable spells and create new formulas, new elementary particles which need so much more money to investigate . Physics has taken over the immense donations which were given in the past to the churches and which are given now in immense amounts in the form of worldwide funding to high energy accelerators like CERN. But the war is coming. And this book is written in the darkest hours of the night.
| | |
| --- | --- |
| ISBN/EAN | 9789402178517 |
| Auteur | Wim Vegt |
| Uitgever | Brave New Books |
| Taal | Engels |
| Uitvoering | E-Book |
| Pagina's | 100 |
Er zijn nog geen reviews van dit product.